Brian Tunnicliffe Double Bass bow

This stunning French style bow is made by Brian Tunnicliffe.

In 1978 Tunnicliffe became acquainted with AR. Bultitude, Past Master of Art Workers Guild who was instrumental in helping him to become a Master Bow maker.
This bow is a fine example of English bow making. It is stamped B.TUNNICLIFFE and ENGLAND.
This bow is in excellent condition. The bow is made from fine Pernambucco with an elliptic stick.
Length: 67.8cm excluding screw
This Bow has been sold


Man Eugen French Double Bass Bow
$1,400.00 (incl. GST)


Made from fine Pernambucco
Victor Fetique 3/4 French Double Bass Bow
Victor Francois FETIQUE ( b. Mirecourt 1872 - d.1933 ) was a prominent French Archetier / Bowmaker from a family of makers.
Victor was the son of Charles-Claude Fetique (violin maker). He learned his craft in Mirecourt with Husson (Charles-Claude), Maline (Sigisbert) et Miquel (Emile). Later, he went on to work for Charles Nicolas Bazin II in 1901, before joining Caressa & Francais. He established his own shop in 1913. Other than his son (Marcel) and his brother (Jules), Thomassin, Toussain, Rémi, Morizot, Weidhaas and Richaume worked for him.
Fetique signed his bows Vtor Fétique. His bows are patterned after those of Voirin, though less distinct.
He was awarded for his personal production the title "Une des Meilleurs Ouvriers de France" (1st Craftsman of France).
65.5cm in length (not including end screw)
Sorry, this bow is unavailable
H.R Pfretzschner 3/4 French Double Bass Bow
Hermann Richard Pfretzschner, son of the bow and string maker Carl Richard Pfretzschner, established the 1880 company H. R. PFRETZSCHNER in Markneukirchen, the bohemian-saxonian "Musikwinkel", where the craft of bowmaking in Germany has its origin.
Hermann learned the craft of bowmaking from his father, Carl in Markneukirchen. After finishing his apprenticeship, he decided to study the craft of bowmaking in Paris, where the bowmaking was very highly developed at the time. In 1873, he became the last pupil of the famous violin and bowmaker, Jean Baptiste Vuillaume (1798 - 1875) in Paris.
In 1901, Hermann received the famous title "Königlich Sächsischer Hoflieferant" (purveyor to the court of Saxony). From now on he was allowed to stamp the "king's coat of arms" on the frog of his bows. In 1911 he received the title "Großherzoglich Sächsischer Hoflieferant" from the Grand Duke of Saxe-Weimar. As an indication of his work, it has been said that H.R Pfretzschner is the only master of bowmaking to receive such titles.
138.8g
Price on Application
Roderich Paesold 3/4 French Double Bass Bow
The Paesold family business was established in 1848 by Roderich's grandfather, Johann Carl Paesold, who produced strings and traded in musical instruments. Roderich later founded his own company (in 1919) which specialized in the manufacture of bows and the export of musical instruments.
In 1939, he travelled to London for business negotiations just as World War II was beginning. Throughout the entire war, Roderich was not allowed to leave the United Kingdom, which later proved to be extremely beneficial.
After the war, he settled in the Bavarian town of Bubenreuth and in 1950 he re-established the family bow making business. Due to his skilled craftsmanship and entrepreneurial initiative, the company gained a reputation which went far beyond Germany's borders. Many important bow makers studied or worked at the workshop of Roderich Paesold.
In 1968, the company W. Schreiber & Söhne took over the Paesold company. At that time, Paesold had begun making high quality string instruments which soon became some of the finest on the world market. In 1981, the Paesold company was integrated into the Boosey & Hawkes group. Today, Paesold is strengthening its outstanding position in the world market through extensive research and development activities.
125g
Price on Application
Gilles Duhaut 3/4 French Double Bass Bow
Gilles Duhaut trained from 1973 to 1976 at the famous School of Violin and Bowmaking at Mirecourt, the Home of Violinmakers in France, under the guidance of Master Bowmaker Bernard OUCHARD.
To execute his skills, Gilles uses only the finest materials. Pernambouco wood is scrupulously chosen and selected to obtain the difficult compromise between elasticity, flexibility and tautness of the stick, in the steps of the grand French Masters of the 19th Century.
Gilles Duhaut endeavours to combine the strength of a rigid bow and the powerful sonority of a flexible bow in his creations. His personal aim is to satisfy the player's ear, because the musician's hand is guided by the sound.

Moreover, he works on his bows in order to provide a comfortable grip and easy play. The musician must become oblivious of his bow to immerse himself completely in the music.

His bows are entirely handmade, thus guaranteeing the originality of each piece. In the same spirit, Gilles Duhaut makes bows for violin, alto, cello and doublebass as well.

Gilles Duhaut believes that an instrument player is first and foremost a musician rather than a technician. This is the reason why he constantly strives to refine the resonance of a bow, being convinced that the strength of the sound produced by an instrument can be modified by the bow.
132.7g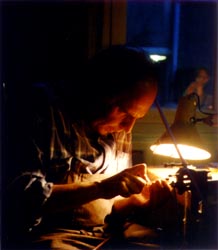 P.O.A
Morizot 3/4 French Double Bass Bow
Assisted by five sons, Louis Morizot presented magnificent hand-made bows made in Mirecourt, France. Admired by artists, connoisseurs and amateurs, his bows are made of rich material and very artistically mounted. A maker who has consecrated his activities to the highest artistry. Morizot obtained the highest award at the Exposition Artisanale, Paris 1927.
129.2g
For purchasing details or further information, please contact us through the contact page on our website.
Price is inclusive of 10% Australian Goods and Services Tax (GST). This tax is not applicable to overseas customers.
Please note that prices are correct at time of uploading. Price variances may occur.